Wahey-hey.
I finally did it. Bought me some cool inlines.
You may be pleased to know that I had ventured into a Skater emporium this weekend past. A short while of browsing gone, I then evaluated a pair of my choosing. Wobbly a start 'tis was, yet unsureness forgotten I stood up and did a little prance around the shoppe. Since my head touch the floor not in disgrace, buy them I did and for a price not too hardy. Tis was a bargain, for prepared was I to part with harsher money.

O glorious success! I made a daring date to venture into Hyde Park this coming weekend, and grace its green pathways on my new wheels. Anon, how graceful my stride only time shall tell.


I ventured out, intending to buy Salomon Siam 7.0.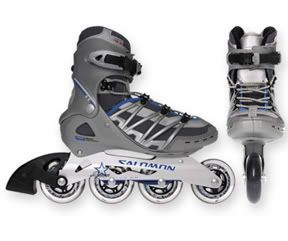 One of these.
But 'Slick Willies' only had Siam 4, which didn't fit my foot too well... but the shop assistant suggested these: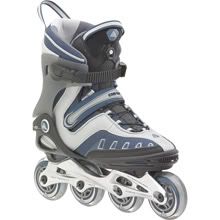 K2 Exo 4.0. Naaaais ones.

Fit like a glove, man. They felt as though I had the wheels amputated quite a while ago, and only remembered this fact now. Nice one, it's gonna be such fun! Didn't go to the park this weekend as all the biker lanes were locked down for a marathon.

D'oh. Can't wait for the weekend. Especially since ~
defelite
has promised to come with me with her brand spanking old skateboard in tow.
~Barf.
P.S. Tiger (our Yorkie bar) is doing well, apart from the weakness of the bladder, which we suffer more than he. This day past, in fact, he did relieve himself upon my foot. Although a mild calamity unraveled, I hold a grudge not as the pup craves a parade in the park which, with our time occupied with other matters, we cannot do often.

Tangled

The Skinning of Danny Messer

One For the Team

True Meaning of Obsession

Conecting the Unconnected

Accusation

Sub Zero

Pursuing Boredom

Pretty Good Day

Zero Hour

Snow can Wait

Hand me Down

Rise and Shine
[link]













LiveJournal here:
[link]

My favourite sister