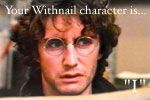 Your
Withnail and I
character is I.
You are indeed drifting into the arena of the unwell.
Take the Withnail & I Character Test

Paul McGann is a purty fella.
Note to self #1, stop being so sadNote to self #2, purchase 'Dr Who - The Movie', and 'Withnail and I'
<What if...?>
-
Can I help you?
-Can you work miracles, Magic Man?

-Did you want to tell me something?
-Many, many things... all of them trivial and meaningless.Yesterday (14th April) was bloody funny... except for when it was sad.

Heroically sticking it out till the end, Yel was finally ready to leave for home at about 19:35. It was pretty late, she knew that of course, but hard labour was over and the evening's festivities (namely dinner and tv) could begin! Arming a couple of late-workers with the spare keys, she skulked outside into the cool evening air.

...getting home was a breeze. Skipping the obligatory 'chucking of the bra' and 'the release of the hair from a tight ponytail', Yel marched downstairs to the kitchen, where a pot of Spaghetti was bubbling invitingly.
To be continued...














LiveJournal here:
[link]

My favourite sister