Oh joy of joys... the wondorous, bubbly feeling of 'WhoooOOOOOp!', that one gets every now and again. *blissful sigh*
First off... thank you for all the lovely letters of support, and pee, that y'all sent me. They helped... really did. *smush*

Now... onto my joy for todee.

So I'm walking, right? Just errands, pick up a sammich here, boy a tape there... etc. Then I see
'him'
.
No, no, not 'The Future Mr Yel'(tm) naaaaaaw.
You sillies.
It was
the
'him'
.
Who's the mystery person?... Ha haaar!
Exactly
.
Do you ever watch a Tv show, and inadvertently get a lil' bit of a crush on the star? Do ya? Huh, huh? I am looking in your direction, !
dracothan
. ~
SilentTrainConductor
no hiding behind your ship models!

I am quite into Doctor Who at the mo, so can you believe it, when I see...?!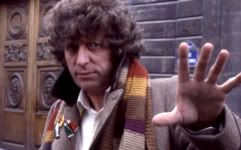 Him
Mr 'I'm the Fourth Doctor', walk back towards me! Guh... Joy.
I tell you, I grinned like a complete idiot on my way off... and grinned even more when I saw him on my way back (munching on some lunch).
That was surreal, man.
Funny, how when you're happy, every little joy matters. I saw two birds in the park. Completely black, and yellow-beaked they rummaged amidst the fresh, deep grass. The Spring has sprung, and pale-lilac flowers litter the parks. A young dude drops a bottle, and guess what? He bends down and puts it in the bin.
Joy.














LiveJournal here:
[link]

My favourite sister